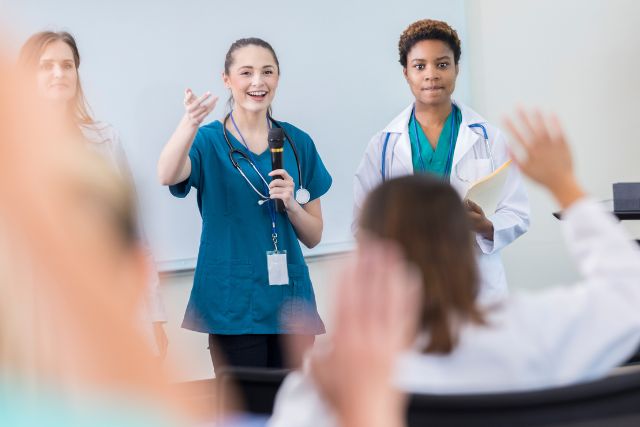 Consultation Opportunities
The Department of Health is managing the Independent Review process with the appointed Reviewer, Susan Nancarrow of AHP Workforce. 

If you're a Health Professional working in the public sector, your employer should be displaying all consultation information on their online hub and communicating consultation opportunities. Remember to check the global emails and newsletters from your HSP.
HSUWA has been asked by the Reviewer to promote the Focus Groups that are now underway. The information provided by the Reviewer is below.
Register for their Community Page
To receive information directly from the Independent Reviewer, you can register via the Reviewer's community page on their website.
Anonymous Survey
The Reviewer has also set up an anonymous survey, available below.
Sign Up for an Online Focus Group
A list of online focus group sessions is below. To sign up you'll need to register via the Reviewer's community page.
Focus Group
Attendees
Date & Time
Focus Group 1
Anyone welcome (15 people max)
Wed 18 Oct
9am – 10am
Focus Group 2
P1 staff only (15 people max)
Wed 18 Oct
11am -12pm
Focus Group 3
Anyone welcome (15 people max)
Fri 20 Oct
8-9am
Focus Group 4
Anyone welcome (15 people max)
Fri 20 Oct
11-12pm
Focus Group 5
Anyone welcome (15 people max)
Fri 20 Oct
1-2pm
Focus Group 6
Anyone welcome (15 people max)
Wed 25 Oct
7-8am
Focus Group 7
P1 staff only (15 people max)
Wed 25 Oct
12-1pm
Focus Group 8
Anyone welcome (8 people max)
Thurs 26 Oct
8-9am
Focus Group 9
Mental health staff only (15 people max)
Thurs 26 Oct
10-11am
Focus Group 10
Anyone welcome (15 people max)

Thurs 26 Oct
10-11am
Focus Group 11
Anyone welcome (8 people max)
Fri 27 Oct
9-10am 
Focus Group 12
Anyone welcome (15 people max)
Fri 27 Oct
9-10am 
Focus Group 13
Anyone welcome (15 people max)
Tues 31 Oct
12-1pm
Focus Group 14
Anyone welcome (8 people max)
Wed 8 Nov
11-12pm
Focus Group 15
Anyone welcome (15 people max)
Thurs 9 Nov
8-9am
Focus Group 16
Mental health staff only (15 people max)
Thurs 9 Nov
8-9am